Another day, another post about television.
On Saturday I was reminded how art imitates life. I was watching Mad Men (I'm very late to the game on that front) and was up to the episode in season 2 where Freddie wets himself in the office. As this was happening, my own Peggy Olson (my rescue dog) was doing the exact same thing as Freddie, on my bed. Delightful.
Anyway, television is a glorious distraction from incontinent pets – so here's a list of television series you might not have heard much about, but absolutely must watch.
The shows I've put in this category are in this category because I don't know anyone (or many people) in real life who also watch them. These are still pretty mainstream shows, by and large, but ones that get a fraction of the viewership and water-cooler chat time as far worse series (Big Bang Theory – that's aimed at you).
Here are five, lesser-known, but just as brilliant shows that you need to get on:
1. Mr Robot
Okay, I'll be honest, this is one of the most mainstream shows on my list. It's won two Golden Globes, and been nominated for four more – but so few people I talk to (in real life) have seen this masterpiece.
Rami Malek stars as Elliot, a cybersecurity engineer by day and vigilante hacker by night, who suffers from psychosis, social anxiety, and clinical depression. Alongside him is Christian Slater, who absolutely kills it as the eponymous Mr Robot, the leader of an anarchist insurrection called F-Society, who are looking to take down the global banking network. My boyfriend, who works in finance, frequently interjects as we watch to tell me how unrealistic this or that financial element is. If you can bring yourself to look past these, clearly devastatingly innaccurate, flaws – you will find a fantastic show.
This is, surprise surprise, another show my father recommended. My father is a habitual pilot-watcher, recommender, and then abandoner. He watches the pilot, and maybe a second episode, of so many top new shows, then raves about them endlessly to me. Eventually I get worn down (I don't know why I resist… great TV is what I live for – I think it's the petulant child in me) and watch said show. A short while later, I emerge, sleep deprived after inevitably bingeing the whole show. I call my father to see what his thoughts were, and offer some critical analysis to the show as a whole. More often than not he responds with "Oh, I've only seen the first couple. I must go back to that one", leaving me with nobody to dissect whatever emotional turmoil I have just put myself through. Fortunately, with Mr Robot, this show was just too good for him to put aside for a rainy day.
My father sums up the beauty of the show well – it has a strong story, interesting characters, and is very well acted – but most significantly, it completely screws around with how stories are told on television. It's so much cleverer than a big twist, or something not being revealed to us, the entire premise, structure, and way the story is told unravels during the first season. I beg you not to read up about this on Wikipedia, as the magic comes when you finish the episode, turn to your partner, and just mouth "shiiiiit" to one another, before starting the next episode. Mr Robot achieves this not once, but twice – in both series absolutely everything you deem to be true and solid folds away. In the first season it is slightly more traditional, but the second season feels more like something you would get in a play, as the scenery falls away before your eyes.
If that passionate diatribe hasn't convinced you, then let Charly Chaikin be the final decider for you (she was what secured it as a must-watch for me). Chaikin was in the (sadly) short-lived sitcom Suburgatory, as the bizarrely vapid and hilariously deadpan Dalia. She's surprisingly similar in this, but I am absolutely not complaining about that in the slightest. Also Malek and Slater are pretty bloody awesome too.
You can find seasons 1-2 of Mr Robot on Amazon Prime, and season 3 is about to drop. Get on it.
2. Big Little Lies
Right, this is another, quite frankly – ridiculous inclusion. This show just cleaned up at the Emmy's – and quite rightly too. Yet in the UK, it's virtually unheard of. Admittedly that is because we don't get HBO over here, and the only way to legally get ahold of it is through a Sky package – which isn't a particularly popular way of watching TV here (at least not with the demographic who are most likely to appreciate this thing of wonder). If it makes it onto Netflix or Amazon in the UK, then I think it's likely to take off pretty quickly.
A friend recently came to me asking for suggestions. He said that he loved Revenge, Smash, and "anything with really rich women doing shady shit". I instantly knew he would adore Big Little Lies. Sure enough, two days later he came back to me and said "you've ruined me…that was amazing…I'm giving up TV because nothing will beat that". He loved that it was beautifully shot and edited, edgy, smart, funny (but not too funny), and featuring these enormous Hollywood stars who rarely grace the small screen.
And he's right – that's all the reasons I love it too. It's only 7 episodes, and (hopefully) won't be coming back for a second season, meaning it is a beautiful, standalone piece to love and cherish. It stars Reese Witherspoon, who is an absolute delight to watch, Nicole Kidman, who breaks my heart in every scene she does, Shailene Woodley, Laura Dern, Alexander Skarsgård, and Zoe Kravitz. Special bonus actor is Adam Scott (Ben from Parks and Recreation), playing Witherspoon's (slightly) downtrodden husband to perfection. It also features James Tupper, who was David Clarke in Revenge, so it feels like the shows take place in the same sort of universe – as though this is what David was doing whilst he was off-camera.
The show is about the lives of the beautiful Madeline (Witherspoon), Celeste (Kidman), and Jane (Woodley), as their respective children start school together in the Californian coastal town of Monterey. Each of them have demons they are overcoming, and a show about female friendship which isn't horrendously backstabbing and bitchy is a welcome relief. It errs on the right side of camp and ridiculous, playing into the actresses' strengths, without crossing over into Desperate Housewives territory.
In the first episode we learn that there was a murder at a trivia night at the kids' school, we have no idea who was involved or who was killed. Each episode is punctuated by talking heads featuring minor characters in police interviews. We never see the main characters talking with the police, leaving us with a potential victim list of a solid 8-10 people. From friends who have read the book, it seems like this is a great way of staying true to the original novel, which is told through these segments.
The show also features spousal abuse quite heavily, in one of the most intelligent and quite frankly uncomfortable ways I've seen. There's certainly no lingering male gaze here, as you so often get in other shows which feature assault (sexual or otherwise), but there is an unpleasant complicity on the part of the audience, which the show cleverly constructs. It's increasingly brutal to watch, but unbelievably well handled. I'm becoming tired of rape and assault being used as a trope in television programmes, especially when it is poorly handled (see: Game of Thrones, Mad Men, Scandal, Reign, American Horror Story, True Blood) – but Big Little Lies shows that it can be told effectively, serving as a key part of the narrative – rather than a throwaway twist to boost ratings. Furthermore the assault storyline is complex, with the audience left questioning their complicity throughout. More on assault in TV shows in a later post…
It is well worth finding a way to watch this show, whether it's through purchase on Amazon Prime, or borrowing a friend's Sky subscription. Obviously there are other methods too, but I would never condone those. As well as being a well-structured, well-written show – it is just a masterclass in acting, from women who know their craft. 
It's also bloody lovely to see a show that passes the Bechdel test every, damn time, without it feeling forced or tokenistic. There *can* be shows about women, that are clever and subtle and brilliant – rather than ham-fisted tripe. 
3. The Good Fight
In my last post I waxed lyrical about The Good Wife. I stand by everything I said there, but my main love of The Good Wife now is because it gave way to the utter brilliance that is The Good Fight. Never did I ever think that a spin-off from a practically perfect show, would actually improve on the original. But it did, and it is well worth your time. 
I have recommended The Good Wife to so many people over the past few years, but now I include an additional: "the best thing about watching The Good Wife, is that you then get to watch The Good Fight". 
The Good Fight takes place several months after the end of The Good Wife, as Diane is preparing for retirement, and Lucca starts working at an African American owned law firm (Reddick, Boseman, & Kolstad), where there is a large focus on police brutality cases in Illinois. Diane's god-daughter, Maia (played by the phenomenal Rose 'you-know-nothing-Jon-Snow' Leslie) is about to start working for Lockhart, Deckler, Gussman, Lee, Lyman, Gilbert-Lurie, Kagan, Tannebaum, & Associates, until her father is embroiled in a Ponzi scheme. This also means Diane losing her inheritance, meaning her retirement plan is gone, as well as her marriage to Kirk (*sobs*). Diane, along with Maia, joins Lucca at Reddick, Boseman, & Kolstad. And that's it – our three leading ladies: Diane, Maia, and Lucca joining forces in an America plagued by Trump, tense racial relations, and an ever-growing gap between rich and poor. 
The Good Fight contains everything I love in from The Good Wife, apart from Alan Cumming who I miss dearly, and without all the Alicia/Peter bullshit. Marissa Gold is back, in full force, and does an utterly stellar job in every scene.
The moment Marissa is hired is probably one of the cleverest parts of the show – and the reason it blows The Good Wife out of the water. This is going to be a lengthy paragraph – but it sums up quite how brilliant and clever this show is. So, Barbara Kolstad (one of the African American partners at the new firm) creates a shortlist of candidates for Diane's assistant, all of whom are people of colour. Diane chooses to interview Marissa, who she knows, trusts, and likes to have around, who she eventually chooses to be her assistant. Of course, the audience are delighted – we get to see Marissa again, naturally long-time fans of the show are rooting for Diane to pick (white) Marissa. Kolstad walks past after Marissa is hired, and raises an eyebrow as to why none of her candidates were good enough – no big blow out, just a subtle noting of the situation. This is white privilege at its peak. We don't feel anything is wrong, because we like Marissa – it's not because she's white that we want her to stay, it's because we already know her. And therein lies the problem. The writers manage to make the audience complicit in this situation, showing the complicated nature of white privilege, and how we are still guilty of it. Utterly genius.
Maia's sexuality is another understated brilliance in the show. Here we have a high-powered lesbian couple, with no coming-out drama – their sexuality is incidental in the show, and all the better for it. The show feels modern and self-aware in a way that The Good Wife never quite could.
Finally, it's definitely worth watching just to see three kick-ass women as the lead characters (two of whom are actually British – so I'm bias, but they are fantastic). You don't have to have seen the original series to thoroughly enjoy this show, but your appreciation will sky-rocket if you do.
In spite of all Julianna Marguiles's talent – I genuinely think this show works better without her (sorry Alicia!).
Oh, and Elspeth is back – in all her fiery, wacky glory.
4. Transparent
This is a show that has been quietly trickling along with great success since 2014. It's one of my absolute favourite shows, and is a real gem. Besides my mother, I know very few people who watch it, and given the content of the show – I will never watch it alongside my mother…
The premise is based that of Jill Soloway's own parent, who came out as transgender much later in life. The show follows Maura, played by Jeffrey Tambor (more on the casting in a moment), who comes out as a transgender woman to her three adult kids and ex-wife. Her children each have their own personal struggles with their identity and sexuality, and their reactions vary accordingly. By the end of the first season, the support is there, so the show stops being about difficult family reactions, and focuses on identity, gender, sexuality, and religion in a far more interesting and sophisticated way.
Whilst transgender experiences are always at the forefront of the show, manifesting in different ways through the range of characters we meet, I love how the show is never afraid to explore other aspects of identity. We see Maura's eldest daughter Sarah, leave her husband for a woman – which isn't even as straightforward as it seems. Her youngest daughter, Ali (played to perfection by Gaby Hoffman) has an equally interesting relationship with her sexuality and gender identity. Whilst Maura's son, Josh, explores his complex relationship with women.
The second season has two of my favourite episodes of television, one at a "womyns'" festival in the woods, where we see Maura encounter the TERF side of feminism for the first time. The other is the culmination of a series-long flashback to Nazi Germany, where we meet Magnus Hirschfield, shortly before his archives were destroyed. The music throughout this season is also particularly poignant, and the creative team do a spectacular job. I stole a lot of music ideas from season 2 when I staged As You Like It last year, and I am grateful to Transparent for the musical inspiration they provided.
The show's beautiful handling of gender, sexuality, religion, age, and identity in general is what makes it such a success. It moves very much at its own pace, knowing that devoted viewers will always come back, without the need for shocking twists and endless cliffhangers. Solloway creates a wonderfully complex and rich world, and the show really is a joy to watch.
The casting is the one tricky element of the series. Whilst every other transgender character is played by transgender actors (and the show has been praised endlessly for its opening of doors to the trans acting community) – it is difficult that Tambor (a cis man) plays Maura. However this is something that the show, the creator, and the cast are all acutely aware of. Soloway has said: "The time has come when it is unacceptable for cis men to play trans women," whilst conceding that their own show "started in a different time". Tambor has used every platform given to him to highlight the transgender community, including announcing when he won one of many awards for his performance: "let this be the last time a cis actor takes a trans role". He implored Hollywood, whilst receiving his second Emmy for the role, to "give transgender actors a chance", whilst acknowledging his privilege as a white, cis man. For a 72-year-old to be joining the cause so vehemently, is impressively insightful and self-aware. It isn't perfect, but the show and its creators seem to genuinely be doing everything they can to atone for the casting.
5. Inside No. 9
A British entry to the list! Something totally different from the other shows here, but I think just as glorious. For people who like Black Mirror (which should be everybody), here's a show that provides you with the same enjoyable dark twists, but with a slightly lighter touch.
Like Black Mirror it's a dark, comedic anthology – but this time in neat 30 minute slots, and with the glorious Reece Shearsmith and Steve Pemberton appearing in every episode. Some episodes are hysterically funny, a couple are genuinely heartbreaking ('12 Days of Christine', for instance), and some are absolutely terrifying.
You can watch the series in order you like, and I genuinely suggest watching them chronologically, as the first two 'Sardines' and 'A Quiet Night In' are excellent introductory episodes – setting up the tone, darkness, and comedy beautifully. The third episode, 'Tom and Gerri' starts to ramp up in its experimental nature – and by then you should be utterly hooked.
As with any anthology, not every episode is a winner ('The Trial of Elizabeth Gadge' and 'Empty Orchestra' are probably worth skipping), but the majority are all highly enjoyable – with some being truly extraordinary pieces of television. 'The Riddle of the Sphinx', in the latest series, was a particular highlight for me – although my boyfriend thinks this is just because it was set at my alma mater, and based on the newspaper I used to write for as a student.
It's a very British show, in humour and tone – but also in the cast. Every episode teems with top British actors (Felicity Kendal, Fiona Shaw, Keeley Hawes, Julian Rhind-Tutt, Tim Key, Philip Glenister, Katherine Parkinson – and so many more), which is always enjoyable when you spend half your life watching solely American television.
If you are suffering from Black Mirror withdrawal (new series is coming out soon…) I highly, highly recommend ploughing through Inside No. 9 episodes – I have yet to hear someone say they haven't enjoyed it.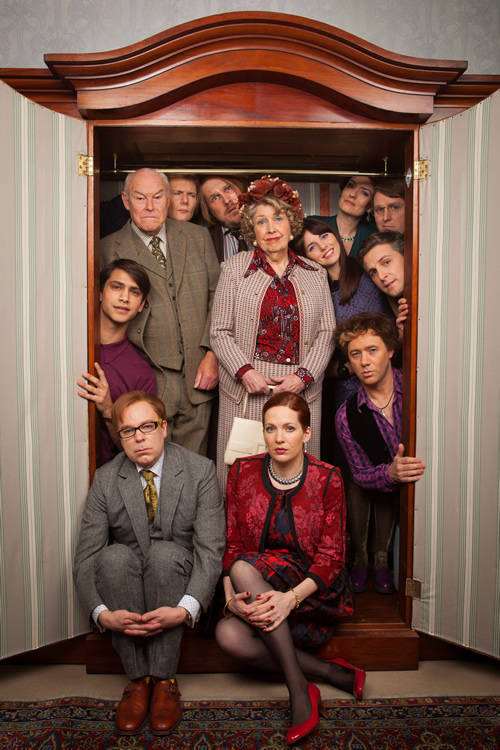 So that's it for this post. Another 5 shows, this time ones you might not have realised you need to watch with a sense of urgency – but now you know.
Next I'm going back to the shows you probably already knew about, so expect to hear me rave about Mad Men, 30 Rock, and everything in between…